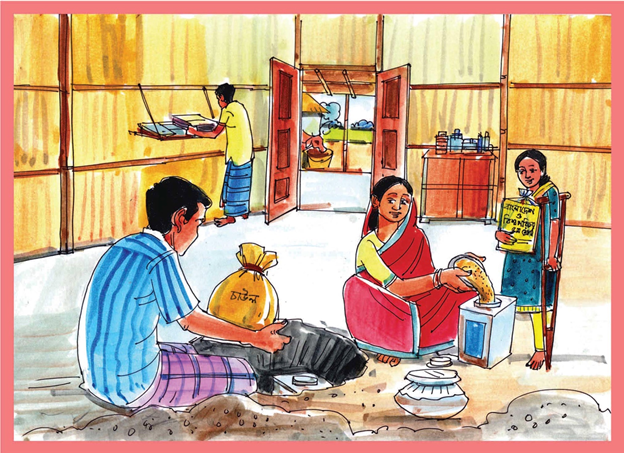 Any official documents and papers (e.g. identity cards, property papers, insurance, education documents etc.) should be safely stored and easy to reach in case of an emergency. For persons with disabilities that have assistive devices, medical needs or receives disability benefits, or other types of allowance, these documents should be safely stored (social security registration, medical prescriptions, medical reports, assistive devices prescription etc.) Replacing such documents in the aftermath of a disaster is often very difficult and can be a lengthy process with the concerned officials.
When providing information to the community regarding household preparedness, include the following tips and advice. They can also be supported with required technology.
Tips:
Documents should be put in plastic packets and carried to safe shelter.

Considering the nature of hazard i.e. cyclone, documents can be kept in a pit along with other essential/valuable things.

Copy/picture of identity number or other serial numbers and dates of important documents can, where available, also be stored in electronic devices i.e. mobile phone, tablet or computer to use as reference to easily recollect those if lost or damaged.

Where appropriate, electronic copies of important documents can be saved in an online storage (so called clouds) in case of damage or loss of the mobile phone or computer during disaster. Such free clouds could be Google drive, one drive, iCloud, or mobile phone companies' own online storage, etc. There are several free sites searchable online for such storage.