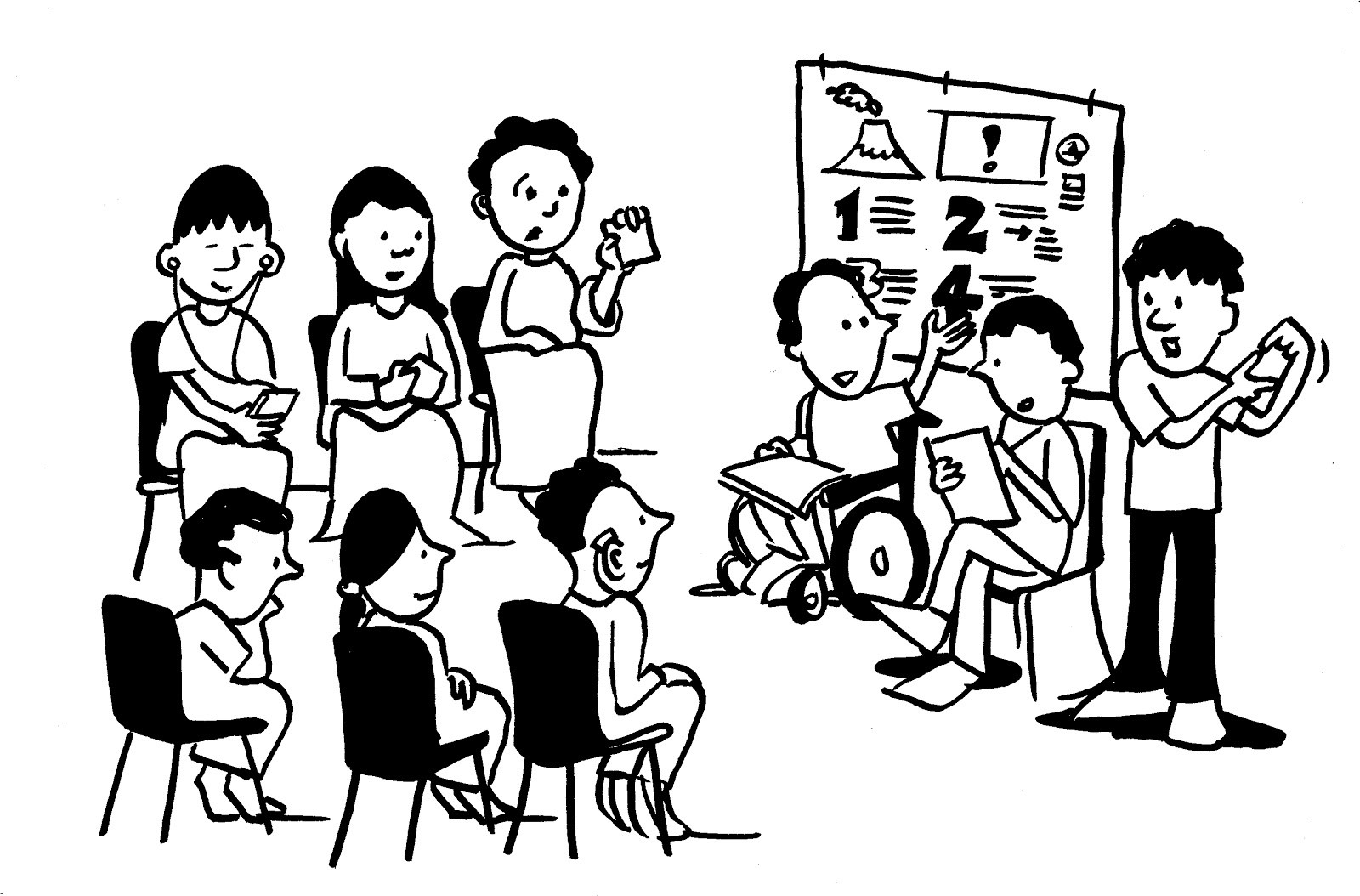 When you plan an inclusive focus group discussion (FGD) for the first time, consult with men and women from different at-risk groups beforehand, to understand their needs and preferences for participating in the meeting.
To ensure the meeting venue is accessible:
The place should be easy to reach by public transport, roads or paths.
The entrance should be step-free, if not a ramp should be available.
Toilets, washrooms and the eating place should be accessible and well signed.
Communication about the meeting should reach everyone, including people who are deaf or blind.
Some persons with disabilities and older persons will have personal assistants or caregivers with them, plan this ahead of the meeting.
Think of the chain of movement, from the entrance to the meeting room, the toilet and catering place. The autonomy of to move around should be ensured as far as possible.
To ensure everyone can equally participate:
Invite women, men, girls and boys from different at-risk groups. Invite people with different types of impairments as they will have different requirements and needs. Women and girls with disabilities are often underrepresented and you should strongly facilitate their participation.
Use gender- and disability sensitive language and communication free of stereotypes.
Pay attention to individuals with a pattern of speaking less and invite them to offer their thoughts.
Give participants the opportunity to ask the speaker to stop or slow down. Color cards can be used, whereby participants raise a red card when they didn't understand, yellow when they wish the speaker to slow down and green to show they understand the content.
Some deaf people or people who are hard of hearing will require the presence of a sign language interpreter to participate to the meeting, or a family member that can interpret. 
Blind people or people with low vision may be supported by receiving electronic version of all materials prior to the meeting. In some contexts, Braille printing of key materials could be useful. (Ask organisations of persons with disabilities for support.)
People with intellectual disabilities might need facilitators or family members that interprets technical and complex terms into simpler language.
Provide childcare for parents with small children.