Place seats at different places within shelters and other buildings to support people with difficulties standing, including persons with disabilities, older persons or pregnant women. 
In latrines/washrooms, seats should at the same height as wheelchairs, to enable wheelchair users to transfer to and from the seat.
Seat can be made at low cost from a variety of materials, depending on the intended use.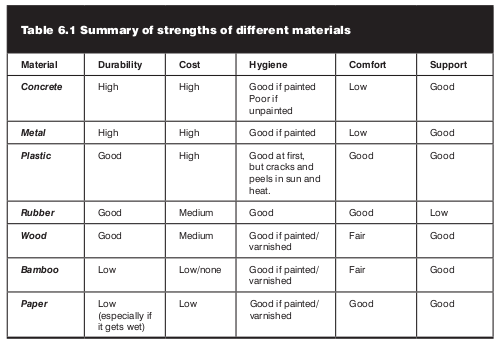 Bathing seats:
A chair or seat in washrooms enables persons who cannot stand without support, or for longer periods, to maintain personal hygiene in a dignified manner.

The seat or chair can be fixed on the floor of a washroom or on the concrete platform of a well.

The seat should have sufficient weight for transferring to and from it easily (consult users).

Movable side-rails help users to hold onto for balance while transferring or bathing.
Benches:
A bench can be used for bathing, eating, exercising, resting or sleeping. It is useful for persons with disabilities, older persons, pregnant women and others who cannot stand for a longer time. It takes up more space than a seat or stool, but can be used for more than one function.
For bathing a bench is practical because the persons can put water container, soap and clothes beside them when they sit to bath. This allows for more autonomy as the person can easily bend or reach further for items.
Toilet seats:
Place commode toilet seats in latrines where possible. 

A squat toilet can also be adapted by placing a chair with a hole on top of the pit and a handrail in front (see examples below). A gap at the front of the seat allows access for anal cleansing.

If a toilet seat is made of wood, paint or varnish it for durability, easier cleaning and better water drainage.
The height of the toilet seat should allow users to easily sit down and stand up (and  persons in wheelchairs to transfer) and rest both feet flat on the floor while seated.